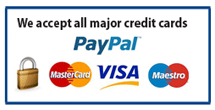 Our Folding Dinghy Launching Trolley Comes in 3 Different Sizes
Our folding dinghy launching trolley is available in three sizes to take boats from small tenders to larger sailing dinghies, Dinghy launching trolley prices are from £159 plus delivery
Our Dinghy Launching Trolley accepts boats up to 12 feet long and 150kg although larger models and custom built dinghy trolleys are also available. Fitted with non marking polyurethane snubbers that dont mark the dinghy.
Our dinghy launching trolley is one of the most sturdiest and effective, fully adjustable, fully galvanised dinghy launching trolleys on the market. Fits easily into a family car boot. The Swift dinghy launching trolley is 2.5 metres long and 1.4 metres wide.
Assembles in seconds. Packs and stores away easily too.
Secure online ordering using the Buy it now button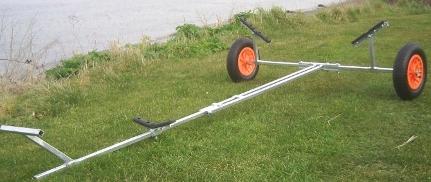 Order our Dinghy Launching Trolley now for only £159.99 plus postage
We Build and Supply Dinghy Launching Trolley for the following classes of Dinghy
420, Albacore,Bosun, Cherub, Comet Duo, Enterprise, Escape 12, E-Scow, Fireball, Flying 15, Fusion 15, GP14, Graduate, Gull, Gull Calypso, Gull Spirit, Heron, Hornet, Kestrel, Lark, Laser, Laser 2, Laser 2000, Laser 3000, Laser 4000, Lightning, M16 Scow, M-20 Scow, Melges M17, Merlin Rocket, Miracle, Mirror, National 12, Norfolk Punt, Osprey, Pacer, RS200, RS400, Sandhopper, Scorpion, Sailqube, Optimist,Seafly,Snipe, Spearhead, Tasar, Topper Buzz, Topper Mango, Topper Spice, Topper Taz, Wanderer, Wayfarer, Byte, Comet, Concept 302, Contender, Europe, International Canoe, Laser, Laser Funboat, Laser Pico, Laser Vago, Laser Vortex, Lido 14, Nipper, OK, Optimist, Phantom, RS Feva, RS Vareo, RS300, RS600, Solo, Splash, Streaker, Supernova, Topper, Topper Topaz Uno. Also introducing out catamaran launch trolley fully adjustable, ideal for hobie cat and zapcat boats.

Large Dinghy Launching Trolley
NOW AVAILABLE OUR LARGER FOLDING DINGHY LAUNCHING TROLLEY THAT WILL TAKE LARGER VESSELS UP TO 16 FOOT LONG...LASER, FIREBALL, ENTERPRISE, SOLO, MYTH SAILING BOATS.
Same unique design and quality as our standard dinghy launching trolley however a more sturdier and heavier duty trolley and 12 foot long unfolded.
A lot of trolley at a very competitive price of £240.99 plus delivery
Order securely using the Buy it now button below,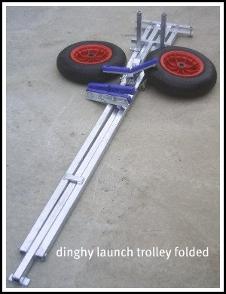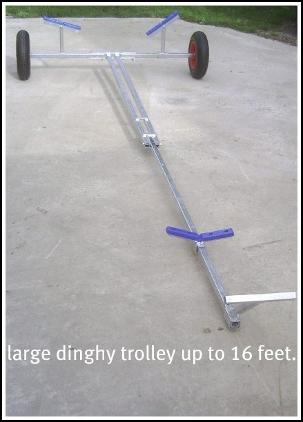 The setting up of our dinghy launching trolley is clearly shown on you tube. Our dinghy launching trolley is very easy and takes very little time or effort. We manufacture three different sizes of launching trolley however both are similar in design and are just as easy to assemble. You can also rest assured that purchasing a dinghy launching trolley from us you will recieve the exact same quality product.
Ideal for ribs, dinghys, sailing, tenders, inflatables, small boats etc.
Please take a look !

Dinghy Launching Trolley with Rollers
Our latest dinghy launching trolley on the market, fully galvanized dinghy boat launch, launching trolley fitted with easy launching rollers, makes dinghy launching so much easier. Fully galvanized construction, fitted with non marking nylon rollers makes our boat, rib, sailing, dinghy launching trolley unique. Will take boats, dinghy, rib up to 12 feet long (with an overhang)
Dinghy Launching Trolley with Rollers only £185.99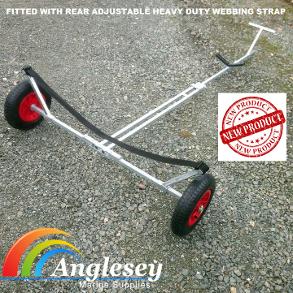 Dinghy Launching Trolley With Webbing Strap
New for 2022, fully galvanized folding dinghy launching trolley fitted with rear adustable strap, ideal for thin hulled boat e.g laser 1 etc. Capable of carrying boats up to 12 feet long and 120kg in weight. Neatly folds away to fit into your car boot. All carrying points are adjustable along with the vee snubber and handle. Also the front is predrilled to accept our off road towing hitch sold separately.
Available for only £169.99

Dinghy Launching Trolley Towing Extension Bar
Dinghy launching trolley extension bar, fastens onto our predrilled dinghy launching trolleys using two M10 bolts. Allows the dinghy launching trolley to be towed slowly off road. Fits all the above foldable dinghy launching trolleys.
Available for only £39.99 plus postage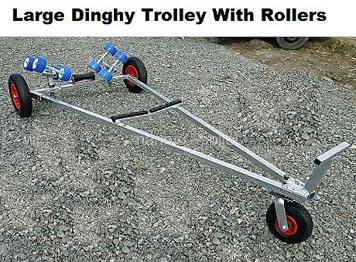 Dinghy Launch Trolley With Rollers
Dinghy launching trolley with rollers fully galvanized and fitted with pneumatic swivel jockey wheel. Strong construction manufactured from 30mm x 30mm x 3mm galvanised box section. Large pneumatic wheels fitted ideal for soft sand or shingle. Small front pneumatic swivel wheel enables easy handling. Polyurethane snubbers and rollers are non marking or scuffing. Fitted with a large 5" rear keel roller with a sturdy 16mm spindle. Rollers are fitted to enable easy loading and launching. Fully adjustable rear roller carriages fitted with 8 ribbed boat trailer rollers. Very strong construction for years and years of use. Probably the strongest dinghy launching trolley on the market. Easy to assemble and pack down at the end of the season. Will carry boats up to 16 foot, length of trolley is 11 foot. (can be made longer if required)
Only £339.99 Plus Postage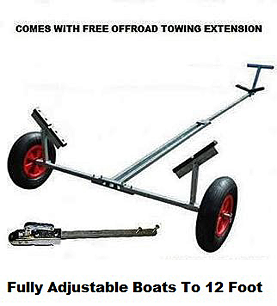 Dinghy Launch Trolley With Towing Extension
Our Swift dinghy launch trolley with towing extension is capable of carrying vessels up to 12 feet long and 120kg, fully galvanized construction, fully adjustable design, non marking snubber supports, the dinghy launching trolley folds away easily in seconds to fit into most family cars. Built to last. Now comes with a towing extension included. The best compact dinghy launching trolley on the market.
Available for only £175.99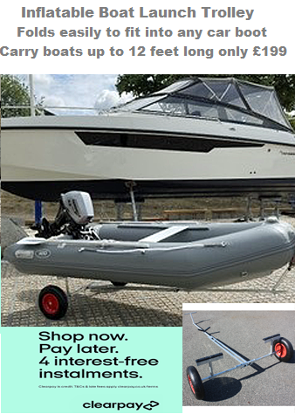 Boat Dinghy Launch Trolley For Inflatable Boats


Purchase our fully galvanized boat dinghy launch trolley for inflatable boats for a very cost effective price of £199, also payable over 4 instalments if eligible for clearpay.

The dinghy launch trolley is fully adjustable and folds easily to fit into any car boot. The launch trolley will carry boats up to 12 feet long and 150kg.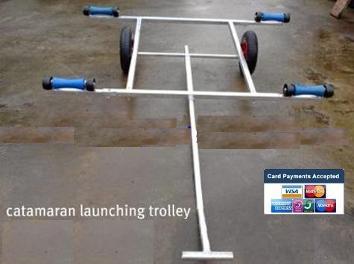 Catamaran Launching Trolley
Fully adjustable telescopic support arms fitted with non marking large 8" rollers c/w castor rollers.
Fitted with easily removable large pneumatic wheels.
Adjustable pull handle for optimum balancing depending on length of boat.
Can fit catamaran, boats and inflatables up to 7 foot 6" between centre of sponsons, telescopes in to 63".
Easily load and unload boat on with the roller assembly.
Hot dipped galvanised for maximum protection. A popular type of catamaran launch trolley. Ideal for Hobie Cat Packs down to a easily storable and transportable size, base frame is 4 foot square.
Ideal for zapcat etc.
Only £480 plus postage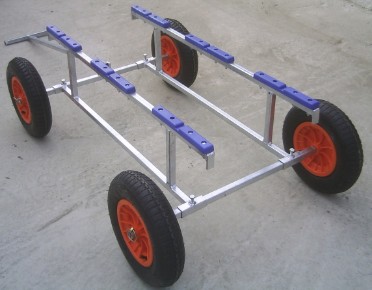 Jetski Pwc Launching Cart And Dolly
Jetski boat launching cart and dolly, fully galvanized and fully adjustable, can also be used as a workshop stand and winter storage for Pwcs and Jetskis. Dimensions are 1 meter overall width and 1.5 meter overall length, fitted with non marking boat trailer rubbers and 4 pneumatic launching trolley wheels. Also fitted with a pull handle. Constructed from heavy duty galvanized box section.
New introductory low low price of £299.99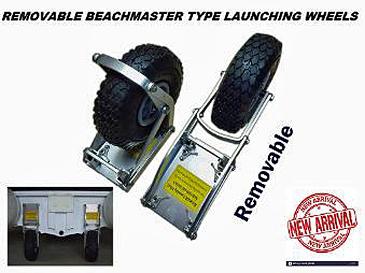 Removable Beachmaster Wheels Style Boat Launching Wheels
Removable Beachmaster type boat launching wheels. The boat launching wheels are manufactured from stainless steel, very robust.
The Beachmaster wheels inflatable boat launching wheels are very easy to raise when not in use. Ideal for inflatable boats.
Only £178.99
Dinghy Trailer 350kg Gross Capacity
Dinghy Trailer 350KG Gross
Fully galvanized construction, easy to assemble (and dismantles easy at the end of the season) Fitted with 350kg suspension units and 10" road wheels and mudguards. Pressed steel towing hitch also fitted. Centre vee or keel rollers, and adjustable side supports also fitted. A roller version is also available, both are fitted with jockey wheels, a winch and winch post. Overall length is 12 feet (will carry a boat up to 16 feet) and 5/6 feet overall width.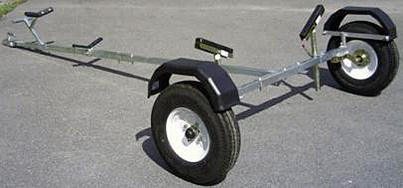 Please choose from either the small boat trailer with side snubbers or a dinghy trailer fitted with boat trailer rollers.
Shipping Details.
Please allow 10 days approx for delivery.
Please contact me if outside of UK Mainland areas as a postal surcharge may be applicable.
Returns Policy.
All items undergo quality checks, however if an item or component is deemed unable to complete its designated task then the faulty goods will be replaced by us on return at customers cost to our premises.
If found to be faulty the item will be replaced and any postage cost will be reinbursed.
All items must be returned to us via www.parcel2go.com
______________________________________________________________________________________________________
If you cannot find the trolley you are looking for why not email me a drawing of what you require and we will manufacture it for you
______________________________________________________________________________________________________
We also custom build launching trolleys also we can make replacement boat trailer swinging arms, roller carriages, drawbars.
Bespoke boat trailer and boat parts manufactured, galvanized and delivered to your door.
Please contact for more info details on the contact page
______________________________________________________________________________________________________
**UK DESIGN RIGHTS APPLY TO ALL OUR PRODUCT DESIGNS **